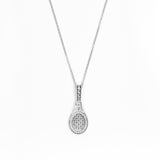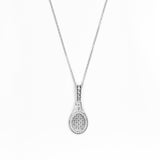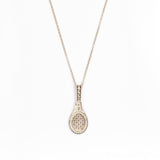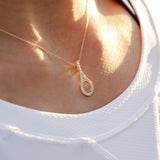 The Legacy Collection shines with graphic sophistication and bold simplicity. The Paume Racquet's flowing and fluid curves feature a strong studded design. Layer either size of the Legacy Pendant with other chain styles for a trendy look, add it to a charm necklace, or wear it alone as an everyday piece on the court and off.
Pendant available in two sizes, measurements outlined below

Handcrafted in solid 14k rose, white, or yellow gold

Also available in silver

Lobster clasp closure
Please note: Due to the one-of-a-kind nature of the medium, exact color patterns may vary slightly from the image shown.
Model is wearing the small Legacy Pendant on a 16 in. chain.
Our Materials
Not only do we want you to love your product, but we want it to last for years (or generations) to come. We only work with ethically sourced, high quality, enduring materials from precious metals to clasps, chains, and genuine diamonds and gemstones. Please scroll below for further details and suggested care practices to keep your Paume Racquet looking brand new.
Why 14k Gold?
Paume Jewelry is built to last on the court and off. Solid gold is a precious, low-reactive metal that will not oxidize or discolor. It is an active lifestyle's best friend; as it scratches less and doesn't bend or wear out as easily as other gold types. The 14k alloy also gives the Paume pieces their beautiful, subtle hue and sets the stage for each design's intricate detail.
Care for your 14k Gold:
It is as simple as lightly scrubbing your piece with a toothbrush and warm water.
Silver
Silver is water sensitive. Please avoid water when wearing your silver Paume piece as it will oxidize. Wear your piece often however, because the oils of your skin will slow the oxidizing process!
Care for your Silver:
When not wearing your piece, it is best to keep your piece in a ziploc bag, a pouch, or inside your Paume packaging to prevent oxidation.
Diamonds
Our high quality diamonds (VS 1 Clarity, G color) are sourced from suppliers who follow socially responsible and ethical practices.
Care for your Diamonds:
While diamonds are among the strongest substances on earth, they also need some love and care. Use warm soapy water with a toothbrush to clean and thoroughly rinse your piece of any residue.
Queen of the Court Pendant Specifications
| | |
| --- | --- |
| Large | Total carat weight .22, pendant length 1 ½ in, racquet head width ½ in |
| Small | Total carat weight: 0.20, pendant length 1 in, racquet head width ⅜ in |
Rings
Make sure to check your sizes using this chart to ensure a proper fit of your piece before ordering. If you have any questions, or are unclear about your sizing, please contact us and we will do our best to advise you.
| | |
| --- | --- |
|  U.S. SIZES | INNER CIRCUMFERENCE (mm) |
| 2 | 41.7mm |
| 2.5 | 42.9mm |
| 3 | 44.2mm |
| 4 | 45.5mm |
| 4.5 | 41.7mm |
| 5 | 42.9mm |
| 5.5 | 44.2mm |
| 6 | 45.5mm |
| 6.5 | 53.1mm |
| 7 | 54.4mm |
| 7.5 | 55.7mm |
| 8 | 57mm |
| 8.5 | 58.3mm |
| 9 | 59.5mm |
| 9.5 | 60.8mm |
| 10 | 62.1mm |
Bracelets
| | | |
| --- | --- | --- |
| U.S. SIZES | WRIST MEASURMENTS (IN) | WRIST MEASURMENTS (MM) |
| Extra Small | 4.76 - 5.25 in | 121 - 133 mm |
| Small | 5.26 - 5.75 in | 134 - 146 mm |
| Medium | 5.76 - 6.25 in | 147 - 159 mm |
| Large | 6.26 - 6.75 in | 160 - 171 mm |
| Extra Large | 6.76 - 7.25 in | 172 - 184 mm |
PENDANT COMPARASION
Other pieces you may like